Interior home renovations in Oakville,
Mississauga & Burlington
Open concept specialists, home entertainment cabinetry, built-in bookcases, custom trim, hardwood flooring, ceramics
Interior renovations (aside from kitchens, bathrooms and basements) enhance the enjoyment, functionality and beauty of your home. Update your home interior into beautiful, functional living space with the latest products on the market and our commitment to superior craftsmanship.
Open Concept Living
The latest trend in home renovations is to remove load bearing walls to create wide open spaces. Modern living spaces are created by installing beams to support the structure of the house, allowing for fewer dividing walls. The effect is stunning.
Custom Lighting, Flooring and Custom Cabinetry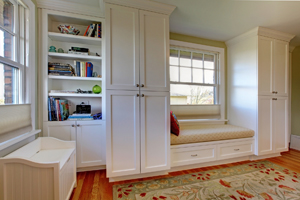 Crozier and Associates installs custom lighting, all flooring types including hardwood and ceramics, builds custom cabinetry and trim for fireplace surrounds and other residential spaces installs. We provide other general renovation services such as painting, plumbing, electrical and drywall and taping.
For over 25 years, we've designed, renovated and built custom interiors for customers throughout Oakville, Burlington and Mississauga.
Please browse our Interiors Gallery. Then connect with us for a quote.
Crozier & Associates Video